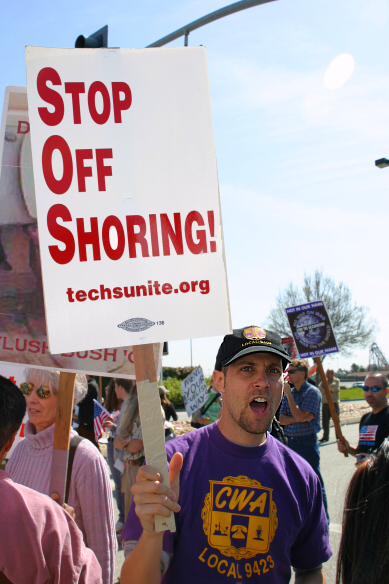 Unfortunately I did not hear the entire interview but today Neil Cavuto of "Cavuto on Business" interviewed a gentlemen talking about how the US economy is dominated by entrepreneurial capital but yet "our government does not change/keep pace..........." which reminded me of a speech I heard former Speaker of the House/potential presidential candidate Newt Gingrich give several years ago in the 1990's about the use of cathode ray tubes in the US's air traffic control system!!! Imagine your iPod having more functionality than air traffic controllers having at their work stations -- that won't make you sleep any better on your next flight :)
Mr. Cavuto's guest stated that "today's banking center is in Charlotte so why not move the Department of Treasury there.............." which makes a hell of a lot of sense to me especially given my childhood in Iowa during the "Farm Crisis" when small towns literally died out, plus my years of working in rural economic development in the 1990's where local activists chased jobs, and today's debate/fear about US jobs being "outsourced" India and China.
So why not bring some urban renewal to Washington DC by "off shoring" federal government jobs around the country to smaller, less expensive cities in our country? I love the idea of the Department of Agriculture moving to VERY affordable Des Moines, Iowa which is home of the World Food Prize (thanks to John Ruan for his leadership) and how about moving the Department of State to Seattle to place more emphasis on the rise of Asia's economies.
Sure this might affect real estate prices in Washington DC but imagine how the parking would improve when you visit the Smithsonian. :)
On a more serious note such a decentralized government would be more secure, less expensive, and would be easy to manage assuming government utilizes today's modern tools -- email, videoconferencing, skype, Instant Messenger, etc.
Save money via geography,
Todd