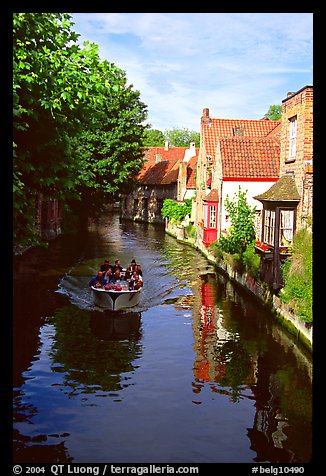 Having worked in Brussels, Belgium this past week I decided to take a day tour of Ghent and Bruges on Saturday after being encouraged by my fiancee to get out and see the area more -- clear evidence of why men need women in their lives to help create a healthy balance :) This was my first visit to Ghent but it was a return visit to Bruges having traveled there as a university student in 1986. From my perspective the tour company should simply drop the Ghent visit from this day tour since it wasn't really worth the time. The "highlight" I remember from the tour guide's comments in Ghent was something to the effect -- ".........this used to be a royal prison but today is the city archives building.........." Well, damn. Now I can die peacefully having seen this landmark!!
Bruges was a much better visit although the nostalgia of my 1986 visit biased my view of Bruges today, 20 years later. Overall the city was still clean, picturesque, and vibrant but it seemed to have seen substantial tourism growth as evidenced by the multitude of shops selling post cards and lace goods. I did have a very nice lunch -- which I would rate with a standard "3" out of 5 having simply met my basic expectations -- at "Restaurant Charles Quint" (
www.charlesquit.com
) of a regional chicken, potato, and carrot dish served by a waitress from the UK. For a minute I had to stop and think if I was still living in London when I first heard her accent having utilized my poor French when I entered the restaurant. Speaking of French I spoke "un peu" at a chocolate shop which surprised the woman at the counter who said that the vast majority of people don't even try French or Dutch/Flemish opting for English immediately. Our tour group made a short visit to the Church of our Lady-Bruges (built in the 14th Century) which is the standard stop in nearly every European city I have toured. The primary feature of this church building is the "Madonna of Michelangelo" statue located in a separate altar area. Sadly, European churches are essentially museums given the decline of religion for most people. I would argue that official, government-sanctioned churches (such as Danes being required to belong to the Lutheran Church until a certain age when they can opt to quit I am told) have resulted in driving people away from church life into the modern "church" known as the welfare state where government "solutions" are worshiped.
The highlight of my entire day was the canal boat tour in Bruges (4.80 euros per person with the group discount) which routed us through 5 or 6 sections of the canal system which is primarily dominated by private homes -- similar to Amsterdam but less colorful. Given the heat of summer in Bruges I would highly recommend this boat tour as the best way to see the city which helps you avoid the multitude of bicycles and horse drawn carriages which constantly force the tourists to move. I have noticed that the new distraction for tourists is holding their digital cameras aloft to take photos of nearly everything around them thus ignoring oncoming traffic including the electric tram which nearly hit one such shutter bug today.
Since tour buses are not allowed in the central city of Bruges our tour group had to take a city bus (for 1 euro per person) back to our tour bus parking area. A bit of advice for the city planners -- the next time you need to purchase new buses for your fleet please consider buying buses that have windows that open so passengers/tourists don't risk passing out from the heat of summer.
Time to shower,
Todd