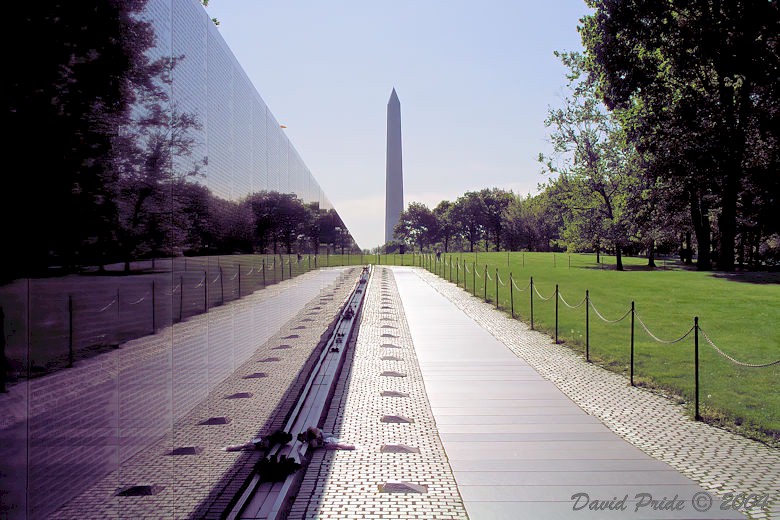 Today is November 11, 2005 -- "Veterans' Day" in the USA -- a day we should focus on giving thanks to the millions of military veterans who served this country to protect us from "all enemies, foreign and domestic." Veterans' Day was created by an Act of the US Congress in 1954 but this day of remembrance had its origins in "Armistice Day" when the German government signed the agreement ending the First World War on November 11, 1918.
Today's posting focuses on three (3) themes related to Veterans' Day:
Offering my thanks
Minorities
Archiving history
I often talk and write about "freedom" on this blog but like many fellow Americans I fail to completely appreciate the sacrifices our veterans have made over the generations which allow me to openly criticize my own government and live a life enriched by the economic, political, and religious freedoms I take for granted. Let me offer my sincere THANK YOU to the veterans living and dead in the USA and in our allied countries for their defense of democracy. We can never repay the debt you are owed in full. Specifically let me thank my grandfather, John, my uncles, and numerous fraternity brothers (with special mention to Jeff and Brian who are on active duty today so I can sleep in peace tonight). May God bless you and your families.
While the USA has mobilized millions of citizens and expended billions of dollars defending and promoting democracy we have failed at times to extend freedom at home especially for women and African-Americans as evidenced via the treatment of the WASPs and the Buffalo Soldiers.
WASPs -- the Women Airforce Service Pilots, http://www.afa.org/magazine/valor/1195valor.asp, was a US military program created in 1942 to help meet the shortage of qualified pilots by training women to play non-combatant roles. In today's Pioneer Press newspaper (St. Paul, Minnesota) the front page quote from Betty Strohfus of Faribault, Minnesota regarding Veterans' Day was, "They didn't recognize the WASPs as military veterans until 25 years after the war. But that's OK. I've attended some sort of Veterans' Day observance every year. It's for the living -- and, you know, I like the living." Twenty five years later brings us to 1970 when the WASPs were finally recognized as veterans which of course coincided with the American womens' rights movement -- thank you ladies and sorry for the delay!!!
Buffalo Soldiers -- these were "all black" military units (with "white" officers) formed by the US Congress in 1866, http://www.imh.org/imh/buf/buf1.html, following their service in the American Civil War. These units served with distinction on the American Frontier via the "separate but equal" ("unequal" in reality) concept which was finally ruled unconstitutional in 1954 in the Brown vs. Board of Education of Topeka, Kansas decision by the US Supreme Court -- nearly 100 years after these military units were formed. Gentlemen -- thank you for your honorable service despite the apartheid system we created for you!!
Let me close with a favorite subject -- "history" -- by promoting the very noble project known as the "Legacy Project" -- http://www.warletters.com/
MISSION STATEMENT:
"Launched on November 11, 1998, the Legacy Project is a national, all-volunteer effort that encourages Americans to honor and remember those who have served or are currently serving this nation in wartime by seeking out and preserving their letters and e-mails home. We believe personal correspondences offer unique insight into warfare and the thoughts and perspectives of those who have experienced it firsthand. "
Please join me in thanking all veterans for their service by sharing the following poem with your loved ones:
JUST A COMMON SOLDIER
(A Soldier Died Today)
by A. Lawrence Vaincourt

He was getting old and paunchy and his hair was falling fast,
And he sat around the Legion, telling stories of the past.
Of a war that he had fought in and the deeds that he had done,
In his exploits with his buddies; they were heroes, every one.
And tho' sometimes, to his neighbors, his tales became a joke,
All his Legion buddies listened, for they knew whereof he spoke.
But we'll hear his tales no longer for old Bill has passed away,
And the world's a little poorer, for a soldier died today.
He will not be mourned by many, just his children and his wife,
For he lived an ordinary and quite uneventful life.
Held a job and raised a family, quietly going his own way,
And the world won't note his passing, though a soldier died today.
When politicians leave this earth, their bodies lie in state,
While thousands note their passing and proclaim that they were great.
Papers tell their whole life stories, from the time that they were young,
But the passing of a soldier goes unnoticed and unsung.
Is the greatest contribution to the welfare of our land
A guy who breaks his promises and cons his fellow man?
Or the ordinary fellow who, in times of war and strife,
Goes off to serve his Country and offers up his life?
A politician's stipend and the style in which he lives
Are sometimes disproportionate to the service that he gives.
While the ordinary soldier, who offered up his all,
Is paid off with a medal and perhaps, a pension small.
It's so easy to forget them for it was so long ago,
That the old Bills of our Country went to battle, but we know
It was not the politicians, with their compromise and ploys,
Who won for us the freedom that our Country now enjoys.
Should you find yourself in danger, with your enemies at hand,
Would you want a politician with his ever-shifting stand?
Or would you prefer a soldier, who has sworn to defend
His home, his kin and Country and would fight until the end?
He was just a common soldier and his ranks are growing thin,
But his presence should remind us we may need his like again.
For when countries are in conflict, then we find the soldier's part
Is to clean up all the troubles that the politicians start.
If we cannot do him honor while he's here to hear the praise,
Then at least let's give him homage at the ending of his days.
Perhaps just a simple headline in a paper that would say,
Our Country is in mourning, for a soldier died today.
Pax Orbem,
Todd