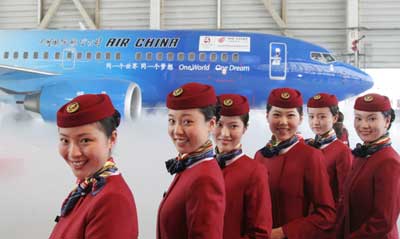 Years ago I was completing my Masters in International Management degree at the University of St. Thomas in Minnesota which required an economics course taught by Dr. David Opp. I was reminded of his discussion regarding "tradable and non-tradable goods" today as I read my local newspaper which had this front page headline -- "Northwest Airlines Rushes to Block Threatened Walkout" -- which is focused on the potential strike by flight attendants.
Dr. Opp always cited "haircuts" as the perfect example of what a "non-tradable good" is meaning it is economically impossible to "export" a "haircut":
http://en.wikipedia.org/wiki/Tradable
From what I have read from flight attendants' trade unions they clearly believe their members are "non-tradable" yet in the Business Section (do labor union leaders read this section???) of the same newspaper today there is a short article that states Air China trains ".......as many as 500 new flight attendants a year." Since Northwest Airlines has nearly 9,200 flight attendants involved in this labor dispute this seems to create a market for Air China to increase its training to supply replacement workers to Northwest. Such a replacement of workers would appear an easy task since the Minnesota to China air corridor is reportedly the shortest flight path between our two countries thus Northwest will always be well-positioned to capitalize on the rise of the Chinese economy.
Overall I have always enjoyed the service supplied by Northwest's flight attendants but today I fear their leadership is mis-guided much like the mechanics were in 2005 when they went on strike. I posted an important question on my blog at the time that if the mechanics were willing to take home equity loans to continue their strike (as was reported locally) why not instead use that equity money to start there own business servicing corporate jets -- perhaps asking a few flight attendants to join them in the venture?
The world needs more entrepreneurs and less tribalism,
Todd