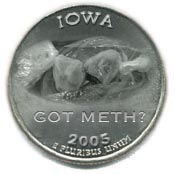 While traveling in Philadelphia this past weekend I saw an ad for this new film:
IOWA - THEY DON'T JUST GROW CORN HERE ANYMORE
http://www.iowathefilm.com
To be completely factual my home state of Iowa also raises substantial amounts of soy beans and hogs but that would probably make the film's tag line a bit too long ;)
Since this was the first time I had heard or read about this film it caught my attention so after reviewing its website I discovered that it is focused on the production of "meth" which is reportedly a booming industry in Iowa. I love my home state so I am greatly concerned about the current state of affairs and the outside world's perception of Iowans generated by this film's release.
Regardless of how this film portrays drug use I am still opposed to living in - and paying for - the police state created by the "War on Drugs" . Additionally, I am very tired of hearing journalists and politicians constantly asking President Bush when he plans to withdraw troops from Iraq so let me generate a new line of questioning -- "Mr. President, when do you plan to withdraw the troops/police from the War on Drugs?" Perhaps some of the thousands of police officers and narcotics agents involved in the drug war could be retrained and re-deployed to Iraq to help that country create the police structure it needs to establish law and order.
Unless we plan to create a 100% income tax bracket we need government to completely rethink how they spend our tax dollars today.
DARE to think anew,
Todd